Fueling Healthy Communities
Home Hydrogen Hobbyist Site
Secure Supply USA
Fueling Healthy Communities
Power Gas Architecture | Developer
Wholesale Manufacturer and Designer,
Custom Software and integration.
Benefits
3300 Channels+TV + VOD Channels
Hotels Resorts in Room Ordering
Reduce Head end room Costs

Own and or rent out you TV Sat/iptv Box portfolio( antenna installers / Cable Guys)

Reduce monthly subscription costs

Greatly increase content offerings

Web based Box portfolio management ( For billing- channel customize and access)

In room Service offerings in room on TV

Food Menu Offers in room on TV

OTA (over the updates and control of box software and health)

Resort content and logo branding of TVs

Spa and resort facilities menu ordering in room non TV.

Own and run Pay per view in Resort.

Fully custom iptv channels and languages

Fast and easy channel changing Excellent.
Area, Regional and Country Distributors and Dealers expanding and wanted at this time.
Enquire Now by
Skype or email
or skype daniel.donatelli
Talk Soon!
Satellite IPTV Secure Supplies for ISP RESORTS CABLE AND ANTENNA Operators
Owner Operator Franchise System
Video/IPTV Products
Recent enhancements in technologies for delivery of high quality video streams open up new revenue generating opportunities for service providers.
With the introduction of MPEG-4 compression and proliferation of broadband last mile infrastructure, it becomes feasible and cost effective to offer real-time video content to subscribers delivered over broadband lines. Because video content has a high perceived value by consumers, it offers higher margins to service providers and as a result many providers today are looking for a technological solution that would allow them to get into that lucrative market segment.
Leveraging on its network technology expertise, We have developed cutting-edge video products that encompass all key elements of modern networks for delivery of video content to subscribers, including billing and content management servers, video concentrators, video streaming servers, and customer premise equipment devices.
Such products enable service providers to quickly build network infrastructure and offer high value-added video content delivered directly to the TV sets of their subscribers.
Our video product line includes Content Management and Billing Platform, combo Switch Media Concentrator, iptv Switch Streaming Server, Switch Stream Converter, Broadcaster, IPTV Set Top Box, Digital Media Center PC,IP Video Phone, Android Set top box Bill board Cloud Servers.IPTV VOD and MOD Servers.
Sat /IPTVSET Top Box is an innovative and feature-rich High-Definition set-top-box (STB), specifically designed for deployment in IPTV and Video-on-Demand infrastructures.

VOD Server IPTV Standard Server is an IPTV product, designed for management and delivery of Video-on-Demand (VOD) and IPTV in hotels, hospital, apartment complexes, universities, churches and other enterprises.

iptv Switch Streaming Server

is universal TV, video, audio

and content streaming server

offering service providers an

easy entry into the lucrative

IPTV and Streaming content

markets.

| | | |
| --- | --- | --- |
| Digital Signage Server is a specialized server for centralized management of digital signage networks. The product performs centralized workflow management, including playlists creation, content distribution and remote media player management. | | Broad caster supports satellite feed streaming to multicast and unicast subscribers. The subscribers are authenticated based on MAC address or IP address. In addition, the broadcaster provides limited billing functionality with session recording. |

Switch Media Concentrator is a robust and scalable audio/video encoder designed for implementation in IP TV, Video-on-Demand, Audio-on-Demand, and Pay-per-View infrastructure.

Billboard Cloud Box is a powerful and noiseless Digital Signage Client Personal Computer that supports Standard and High Definition (HD) video, audio/video playback, web browsing and a myriad of media applications.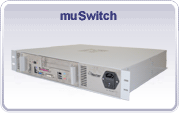 muSwitch is a universal stream converter that enables providers to deliver Multicast IPTV streams to end-users in Unicast format, thereby reducing backbone congestion & Uping quality..